| | |
| --- | --- |
| The start of a cave diving journey | |
Written by Agnes Milowka
Monday, 27 December 2010 00:00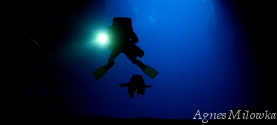 It is almost the end of the year, a time when many of us sit back and reflect. Keeping with the spirit of the moment I thought I'd delve into my logbook and reflect on a handful of special underwater moments at the start of my cave diving journey. So here they are, straight from Australia's cave country, the Mt Gambier region… and straight out of my logbook.
Ewens Ponds is a series of three interconnected freshwater ponds. The shallow ponds are continuously fed by spring water that bubbles up from the ground and as a result the clarity of the water is phenomenal. You can easily see from one side of the pond to the other, which is a distance of about 80m (264ft). The ponds are a unique eco system and are home to a variety of flora and fauna including some rare and endangered species such as the Golden Pygmy Perch. This was my first dive in freshwater and my first experience diving in anything remotely karst related.

'This place is unlike anything I have ever seen before! Very, very cool. Fresh water diving is great - not just because you don't have to wash your gear after. The visibility is absolutely fabulous, just incredible. There was lots of sun around and a whole school of fish was floating around in the first lake - it looked amazing. Then I turned around and saw three divers, weightless and floating around on the other side of the lake… but they looked as clear as if they were right next to me. Totally awesome!'
It was a snorkel over Piccaninnie Ponds that is responsible for me taking up cave diving. Piccaninnie Ponds offer perfect visibility and you can peer down into the depths of the Chasm even from the surface. The large shaft of the Chasm drops down to 40m (132ft) and from the surface it feels like a bottomless pit. A diver doesn't have to descend to great depths to be entertained however; the ponds are a vibrant and active ecosystem and animals like eels and turtles roam in the shallows. It only took one snorkel and all I could think about was diving the ponds in the future.

'I know it is not a dive but I still have to log it. What a cool place! I reckon the only reason they let you snorkel the place is so that you to get into cave diving. The hole looked unreal. I so totally wish I could have dived it. I can't believe how deep it gets. We tried to free dive it but didn't really get very far. Definitely have to be back here soon. The coolest thing about the snorkel was the eastern long neck tortoise that I saw - so cute. I also saw three short finned eels which were wicked.'
During my Deep Cavern course (the first level of cave training in Australia) we dived a site called the Sisters. There isn't much to see, the visibility isn't great and the site is generally only used for training site. After my first training dive in a cavern, I was less than impressed it seems.

'This cave diving thing is kinda weird - you drive out into the middle of nowhere and jump into some kind of water filled hole. I wonder who the first person was who decided to go diving in there. Anyway, we did. By the time my buddy and I got in it was very messy. Clouds of silt were coming up all around us. I was down there thinking - what a dirty, dirty little sinkhole. The vis was pretty appauling, still I guess it's not a huge drama and we got on with the exercises. … We survived alright and got back in one piece. Very different and I guess it gave us a good introduction to this whole cave diving thing.'
Finally, at the end of the Deep Cavern course we were able to enjoy a dive at Piccaninnie Ponds. Unsurprisingly this sinkhole was the first one we hit after the course. After checking out the Chasm down to the Dogleg at 40m (132ft) we discovered a place called the Cathedral, a huge cavern with white sculptured walls.

'Wow! How amazing! The vis was just phenomenal. What a great feeling going down that shaft. Finally! This dive was absolutely spectacular! I loved the big open spaces. We found our way into the Cathedral too. The entrance is quite small but then the place opens up into this huge room. Just the size of it - amazing! Looking back out at the ponds was absolutely fantastic; those three shafts of light coming in and the blue skies above, just brilliant.'
I think diving in Kilsby's sinkhole sealed my fate as a cave diver. I was quite obviously hooked after doing this dive. Kilsby's is a large sinkhole about 50m (165ft) long and 60m (198ft) deep with visibility so good you could easily see the stars in the sky looking up from the bottom.

'What an absolutely unreal dive - like wow! It is just so beautiful down there. I couldn't believe that you could see the bottom from the surface. That's just phenomenal. It was an amazing experience floating around in this giant hole. The best was looking back out of the cavern area towards the surface, as all the divers off in the distance really gave it perspective. It's awesome to explore the nooks and crannies; it is fascinating everywhere you go. An amazing shaft of sunlight appeared while we dived and completely changed the whole sinkhole. The suns rays beaming down just blew me away. I couldn't believe we spent an hour in there. The whole time I was so excited and fascinated I hardly even felt the cold. This place rocks!'
Enough with the sentimental moments. Happy New Year!!!