Cave Diving
In the heart of Tiger's Eye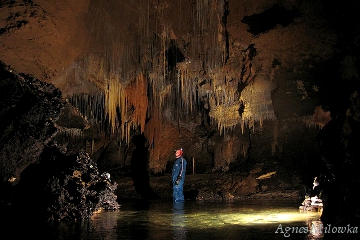 I am cold and alone inside the cave. Sitting there at 6m (20ft) I'm slowly loosing all feeling. I am so cold that it hurts. I am desperately craving comfort. To stay put is a mental struggle. It is tempting to shoot up to the surface, to sunlight, to warmth. I know I can't. I know that I have to stay. I know I am stuck in a self-imposed jail cell. I might be wretched and miserable but escape is not an option. The seconds of the clock count down. The more often I look down at the computer, the more frequently I am disappointed. Time, it seems, is standing still. I try to console myself by remembering that the pain is only temporary and will dissipate shortly after I hit the surface. So I wedge myself tighter beneath the rocky ceiling and suffer quietly. In spite of everything not once do I think, 'Why am I here' or 'Why am I doing this?' I take it for granted this is where I want to be. That this is what I love doing. That this is the price I am willing to pay.
Finally 115 minutes tick by and I am free to go. Dizzy from the cold I emerge. I surface disappointed. The cave is sending me home tail in between my legs. The final restriction proved impenetrable.
Read more...
Cave diving in Victoria: Exploration of the Elk River streamway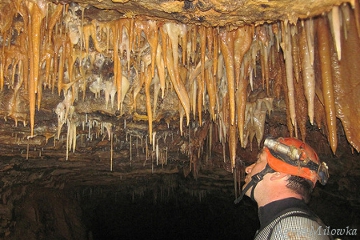 The Buchan area is one of the largest karst features in Victoria. It is a farming area like Mt Gambier but the landscape is very different. Here there are rolling hills and some reasonably sized rivers, although the flies remain the same. Underneath this landscape is a honeycomb of caves. The Pot Holes Reserve in particular is absolutely littered with them with over 90 caves known. Until recently all these caves were dry and there was no opportunity for diving.

In early 2006 a group of local cavers the Victorian Limestone Caving Team (VLCT) dug open an entrance to a cave that led down to a streamway, admittedly, not a large streamway, but flowing water none the less. At the time, on the Potholes Reserve in Buchan all the known caves dropped quite steeply to a level of impermeable chert resulting in the caves petering out. People had talked for years about the "Master Cave" that must exist in the next level of limestone beneath the chert, but nothing had gone through, until Elk River. The initial streamway that had been found ran for around 100m (330ft) before terminating at both ends in sumps.
Read more...
Baptizing Spring Exploration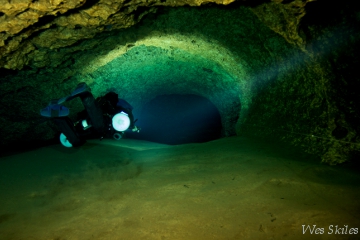 I started off like any other tourist cave diver; diving all the big caves, thinking Florida is all about crystal clear springs, big tunnels and that is has long ago been tapped out... as it turned out I was wrong on all accounts. I found myself searching for caves further afield and this led me to many off-the-beaten-track sidemount caves out in the middle of the woods.
Baptizing Spring was one of those caves. It has never got much traffic or interest from the hordes, as it is only a few hundred feet long. It is just as well that in my book, any cave is a good cave and I decided to go and check it out. Baptizing Spring has an upstream and downstream section and the exploration of each is a completely different story. So first let's go with the flow and head downstream.
Read more...
Unravelling the mysteries of the Bahamas.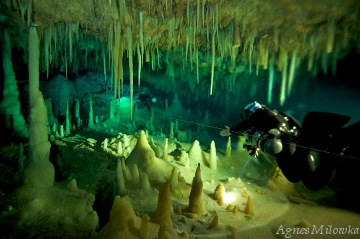 As we flew over Abaco I asked the pilot 'So what does everyone think of when they think of the Bahamas?' 'Sex on the beach' he said without any hesitation... I can only assume he meant the cocktail. Either way it all sounded rather promising.
I've been getting spoiled rotten over the past year living and diving in Florida's cave country and one would think that I'd be rather hard to please after this experience. Yet the Bahamas did more than just please me; they titillated me, intrigued me and eventually left me breathless. While everyone is always going on about the Mexico caves, little did I know that not far off the Floridian coast, nothing short of a secret treasure exists… somehow the Bahamas had gone under my radar.
Read more...
Virgin Territory: Devil's Eye past the restriction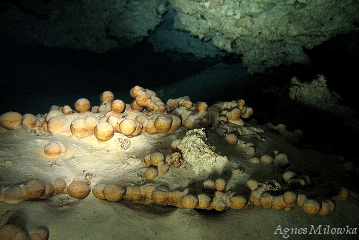 I love Devil's Eye. Yet after diving it virtually every weekday for months on end and inspecting what seems like every inch of its gorgeous self, one day it struck me - this must be what being married is like. It's still good every time you do it… but you always know what you are going to get. Then the floods came and I was in for a wild ride; the marriage equivalent of coming home and finding your partner in a kinky outfit and ready to go, I suppose.
The floods quickly turned the vis to crap and hardly anyone was diving. While most saw doom and gloom, I saw an opportunity. I could turn my attention to the one tunnel I hadn't seen yet, the tunnel that led to the new section.
Read more...
<<

Start

<

Prev

1

2 Next > End >>


Page 1 of 2