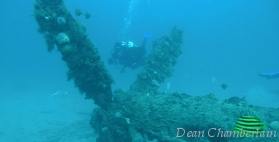 Diving on airplane wrecks is quite a strange and bizarre experience - aircraft belong up in the air and not underwater! Yet things don't always go according to plan, planes do crash and sometimes they end up at the bottom of the ocean. I have had the pleasure of diving on two sunken airplane wrecks in Australia, the Fairey Firefly in NSW and the Vultee Vengeance in Victoria.
Read more...
Tuesday, 22 February 2011 00:00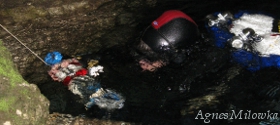 Surveying caves is hard yakka. Sometimes it feels like surveying caves is to exploration, what cleaning up the day after is to hosting a party. This sentiment seems to be even stronger when having to survey underwater caves. Yet surveying caves is a necessary evil - it is the price you pay for exploration.
Read more...
Tuesday, 15 February 2011 00:00
Becoming a Dive Rite Ambassador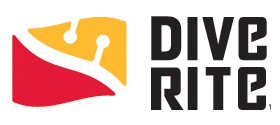 I am thrilled to announce my inclusion as a Dive Rite Ambassador for 2011. Dive Rite is a pioneering creator of technical SCUBA diving equipment for advanced, wreck and cave diving. Dive Rite employees don't just design and build the gear, they use it - and so do I! I have a long history with the Dive Rite brand and have been using the gear for years.
Read more...
Tuesday, 08 February 2011 00:00
Diving the City of Launceston shipwreck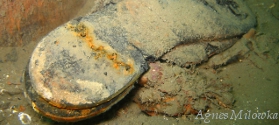 The SS City of Launceston is one of the most intact and well-preserved shipwreck sites in Victoria and is of tremendous historic and archaeological significance. It has been deemed so important that the shipwreck was given the highest level of legal protection by the government. A Protected Zone exists around the wreck and its 500m (1650ft) radius, which means divers and even boat traffic cannot access the site without a permit. I was one of the lucky few to dive this interesting and precious shipwreck.
Read more...
Tuesday, 01 February 2011 00:00
Review of the cave diving movie 'Sanctum'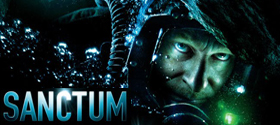 It is tremendously difficult to objectively review a movie if you were in any way involved in its creation. In this case it is doubly difficult as I aim to review 'Sanctum,' the movie intimately linked with the greatest of filmmakers - James Cameron. Still, I'm not one to shy away from a challenge, so I'll give it a shot. Although I might have to be more wordy than simply proclaiming it as 'good', as I initially did.
Read more...
Tuesday, 25 January 2011 00:00
Diving the historic PS Clonmel wreck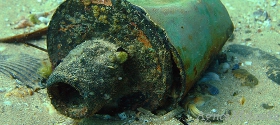 Imagine being woken by the sudden jolt of the ship as it strikes a sand bank traveling at ten knots per hour. The wooden ship shudders beneath you and then comes to a grinding halt. Imagine the fear, the confusion and the feeling of panic as you stumble out of bed and rush up on deck. Thick mist surrounds the ship but you can clearly see the waves that crush across the shallow sandbank, each one lifting the vessel higher upon the bank.
Read more...
Tuesday, 18 January 2011 00:00
First loves are never forgotten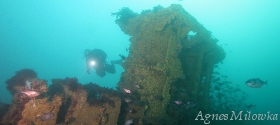 It is said that you never forget your first love. Underwater, as in life this seems to ring true. Shipwrecks were my first love and I have not forgotten them. As soon as I laid my eyes on a shipwreck I was fascinated. My very first dive on a wreck was on the scuttled J4 submarine, located in Victorian waters. The experience left me gushing.
Read more...
Tuesday, 11 January 2011 00:00
The start of a cave diving journey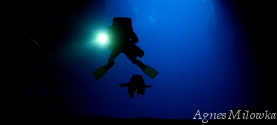 It is almost the end of the year, a time when many of us sit back and reflect. Keeping with the spirit of the moment I thought I'd delve into my logbook and reflect on a handful of special underwater moments at the start of my cave diving journey. So here they are, straight from Australia's cave country, the Mt Gambier region… and straight out of my logbook.
Read more...
Monday, 27 December 2010 00:00
Diving ocean caves - Fish Rock and Cathedral Caves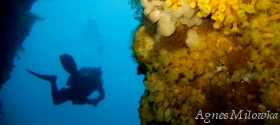 You don't have to be a cave diver to get a taste of diving inside an overhead environment. Ocean caves offer a chance for those curious about caves to see what all the fuss is about, without getting too far away from the light zone and safety. Even if cave diving isn't you, the abundant marine life that often inhabits ocean caves  and caverns should keep you enthralled and entertained.
Read more...
Tuesday, 21 December 2010 00:00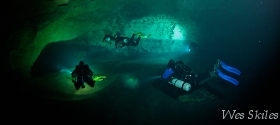 Diving inside big caves is an awe-inspiring experience. By big caves I mean caves with big rooms and large open spaces. Rooms big enough to fit several jumbo jets into, comfortably. As you swim through these huge spaces a vast expanse of blackness seems to surround and envelop you. Often these big caves feel even bigger than they are, as no matter how good the visibility is you cannot take it all in at once and you cannot see wall to wall.
Read more...
Tuesday, 14 December 2010 00:00
When things go wrong underwater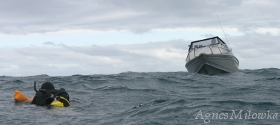 You dive often enough and for long enough and you will find that the age old saying 'whatever can go wrong will go wrong' is not a cliché but a hard and fast reality. Some problems are difficult to avoid, sometimes dive gear ceases to cooperate and that's all there is to it. That's when having plenty of training and experience under your belt comes in handy, so you can deal with the situation and live to tell the tale.
Read more...
Tuesday, 07 December 2010 00:00
Tank Cave - Pushing the C section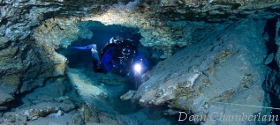 The Mt Gambier region of South Australia is famous for its numerous caves and sinkholes but Tank Cave stands out from amongst the crowd and is the crowning jewel as far as cave divers are concerned. Tank Cave, named so because a water tank used to rest right over the top of the entrance, is an extensive, maze like system with over 7km (23000ft) of passage which makes it one of the longest caves in Australia.
Read more...
Tuesday, 30 November 2010 00:00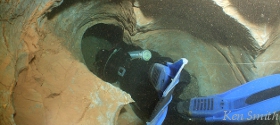 Jenolan caves are world famous show caves in New South Wales, Australia. It is a 'must see' experience and tourists come from all around the world to see the highly decorated passages and the incredible beauty of the underground world, so foreign to most folks. There are eleven spectacular show caves that feature mind-blowing formations of all shapes and sizes.
Read more...
Tuesday, 23 November 2010 00:00
The Peacock Springs connection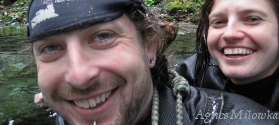 In August 2010 James Toland and I made the connection between Peacock Springs and Baptizing Spring. The connection between the two springs means that the Peacock Springs Cave System is now over 10,000ft  (3km) longer, adding significantly to its already extensive 28,000ft (8.5km) of passage. I had the honor of tying in to my old line left in downstream Baptizing and thus the two caves were finally connected and made one.
Read more...
Monday, 15 November 2010 00:00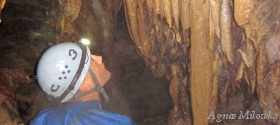 On the 4th of October 1936 Jack Sheppard finally cracked the first sump in Swildon's Hole and dived through to the other side. It took Jack and his team two years to make this breakthrough dive. The dive itself turned out to be short and sweet, before he knew it the dive was over and he could stand up and wade out of the water.
Read more...
Tuesday, 09 November 2010 00:00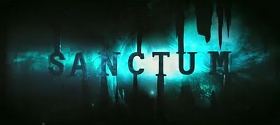 'Sanctum' the movie, a James Cameron 3D extravaganza, will be released in the cinemas come February 2011. For now, we can get a glimpse of what lies ahead by watching the just released Sanctum movie trailer. Sanctum is a movie about cave divers and the thrill of exploration and adventure inside cave systems. It investigates the psychological strains on team members of an expedition when it all goes horribly wrong.
Read more...
Saturday, 30 October 2010 11:45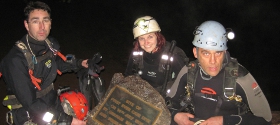 Wookey Hole Cave, situated in the Mendip Hills area of Somerset, England, has fascinated visitors for hundreds of years and has been a tourist attraction since 1927. It is easy to see why; the mighty cavern is the resurgence for the thunderous waters of the River Axe and further inside the cave are grand vaults and chambers. It would be difficult to find another cave seeped with so much history.
Read more...
Monday, 25 October 2010 11:45
EuroTek 2010 Dive Conference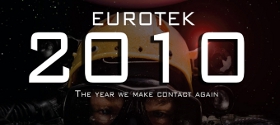 I crashed through the hotel door waking Jill Heinerth from her slumber and my stuff, very typically, proceeded to explode across the small room. Jill laughed as I started unpacking my still wet wetsuit, caving helmet and overalls followed closely by high heels and a cocktail dress. It's not often one travels to go caving with high heels in tow but the EuroTek gala dinner is a fancy event and Leigh Bishop demanded I dress up.
Read more...
Tuesday, 19 October 2010 11:45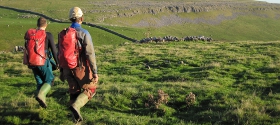 Yorkshire Dales (UK) is a rather idyllic spot; perfectly quaint villages are scattered across green rolling hills that are dotted with lazy cows and sheep. It has been nicknamed 'God's own county', which frankly is not surprising to anyone who enjoys their caving. There are lots of caves to play in, in fact, the area is home to Britain's largest collection of caves.
Read more...
Monday, 04 October 2010 00:00
Cave Divers Association of Australia Symposium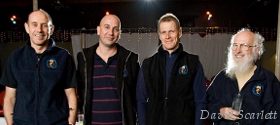 The Cave Divers Association of Australia symposium, held in Mt Gambier (Australia) featured four fantastic speakers from Florida, Mexico, New Zealand and Australia. It is always great to hear stories of exploration from around the world and this set of presentations was no exception, their presentations were nothing short of inspirational.
Read more...
Monday, 27 September 2010 00:00
<<

Start

<

Prev

1

2 Next > End >>