| | |
| --- | --- |
| The Peacock Springs connection | |
Written by Agnes Milowka
Monday, 15 November 2010 00:00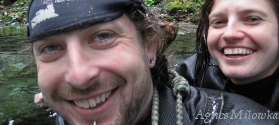 In August 2010 James Toland and I made the connection between Peacock Springs and Baptizing Spring. The connection between the two springs means that the Peacock Springs Cave System is now over 10,000ft  (3km) longer, adding significantly to its already extensive 28,000ft (8.5km) of passage. I had the honor of tying in to my old line left in downstream Baptizing and thus the two caves were finally connected and made one.
Peacock, as it is generally known, is part of the Wes Skiles Peacock Springs State Park (aka Peacock Springs State Recreational Area). The State park is located close to Luraville in North Florida, USA. There are a number of springs on the property, most of which have been connected to the Peacock Springs Cave System. The springs enjoy protection from development, giving local and international cave divers, swimmers and hikers the chance to appreciate North Florida in its most pristine state. Cave divers have the opportunity to enjoy one of the most extensive and beautiful cave systems in Florida. Swimmers can splash around in clear and refreshing spring water. While the hikers are treated to a real diversity of plant life, a spectacular old growth forest and an interpretive trail that describes the underwater cave system beneath their feet.

Peacock is often taken for granted by cave divers and many people assume that because it is a popular dive site and a training site at that, there is nothing new to be discovered in this cave. The reality couldn't be further from this. Just because a cave has good facilities, picnic tables and steps that lead into the water does not make it any less interesting or fascinating and it does not mean that all its potential has been exhausted.

Peacock is in my eyes one of the most extraordinary and diverse cave systems in Florida. There is so much to see and enjoy and the relatively shallow nature of the cave (70ft/20m range) allows for long dives with little to no deco. It is little wonder that it is a magnet for visitors and that cave divers from all around the world flock to Peacock every day of the week. I have enjoyed every one of my dives here and was positively delighted to have found new passage in this cave - one of the most popular caves in the world.

Peacock to Baptizing was my first connection and it was a brilliant and exhilarating experience. To descend into one spring and come out another, 4600ft (1400m) further upstream was quite remarkable. Before making the connection dive James and I knew we had to be close, but we spent the previous dive blindly chasing down leads with no result. It was only once Bob Schulte compiled the survey notes and created a map that our next move was made clear. It seemed all we had to do was head north and we would be home and hosed.

Sure enough, after laying less than 250ft (75m) in the correct direction suddenly there was my line and a blue 'Ag' arrow, the remnants from the exploration of downstream Baptizing. It was a huge thrill finally tying the reel into my own line and knowing that after all the hard work we had made the traverse. We had long suspected the two caves were connected but we weren't sure whether a person could physically fit through. What seemed like an impossible and unlikely task two years prior was at last completed.

Some may ask, so what's the big deal about making a connection anyway? For many it is the ultimate challenge in cave diving, to follow the course of the water from its end to its beginning or another entrance as the case may be. In fact, when I first met James he made a now infamous statement 'when I make a connection I'm going to retire from cave diving.' Luckily he is no closer to putting up his fins now that the task is done, but it does demonstrates the significance associated with making a connection. 

More importantly than the personal sense of achievement however, is that a physical connection made by a diver demonstrates beyond a shadow of a doubt the hydrological link between the two springs. In this case it shows that the two caves are part of the same system and that everything that happens on the land upstream of Peacock, any pollution or contamination, flows back into Peacock Springs itself. It is not enough to protect just the spring - the land upstream must also be protected if the quality of the water is to be maintained.

Luckily the area of the park was expanded in 2006 and the land surrounding Baptizing Spring is also State land and as such is protected. Yet, Upstream Baptizing runs for over 8000ft (2.5km) further north, therefore the recharge basin for the Peacock Springs Cave System is actually much larger and more extensive than originally thought. It is worth noting that the water you swim though in Peacock has come a long way and as such the water might not be as pristine as we all like to think it is. And the water does not stop here, the water that runs through the Peacock Springs Cave System ends up feeding into the Suwannee River and this body of water eventually flows out into the Gulf of Mexico.

Without question the springs of Florida need thorough and comprehensive protection. There is much more cave down there that is yet to be found and explored. It seems that until a person physically swims through the passages no one seems to believe that the underwater tunnels beneath Florida are all connected. It's worth remembering that beneath our feet is a complex and vast maze of tunnels and our actions in one spring could affect the whole aquifer.


A full article written by James Toland and Agnes Milowka describing the exploration and a color map compiled and drawn by Bob Schulte will be published in the next edition of Underwater Speleology (UWS) the NSS-CDS magazine and featured on the AgnesMilowka.com website.