| | |
| --- | --- |
| Cave Divers Association of Australia Symposium | |
Written by Agnes Milowka
Monday, 27 September 2010 00:00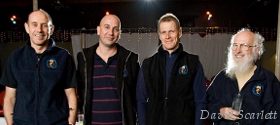 The Cave Divers Association of Australia symposium, held in Mt Gambier (Australia) featured four fantastic speakers from Florida, Mexico, New Zealand and Australia. It is always great to hear stories of exploration from around the world and this set of presentations was no exception, their presentations were nothing short of inspirational.
Forrest Wilson is a caver and cave diver from the US and was there at the very start of the development of cave diving in Florida. Back in the day there was no commercially available cave diving equipment, so anyone who wanted to venture underground had to build their own stuff.
Forrest was no exception and built and designed many interesting pieces of dive gear throughout the years. Famously he was instrumental for his part in the development of the line arrow in 1979 that we all use and love today – this simple piece of plastic has saved many a cave divers life as it points the way out of the cave. Forrest showed some classic photographs of gear from the 70s – leaving many in the audience gasping. Most of us wouldn't dare enter a cave system wearing that kind of equipment. The lights in particular were a classic. Imagine diving with something the size of a car battery strapped to you – oh wait, it actually was a car battery that they used! Crazy. Suffice to say that most of the equipment was big, bulky and famously unreliable.
Forrest remains involved with cave exploration to this day and he shared with us his most recent experiences from the Dominican Republic, where they trampled through the bush on donkeys for hours to get to the water's edge – very exciting stuff.
Christophe Le Maillot has a rather impressive cave exploration resume and spoke to us about his cave diving in Bosnia & Herzegovina and Mexico. A glimpse into the caves of Bosnia was a treat indeed, as we don't get to hear enough about the European cave exploration down here in Oz. Cave diving there seems to be characterized by cold water, high flow, low visibility, resounding depth and generally speaking tough conditions. Getting a good dive requires a degree of luck it seems, this story in particular captured my attention.
The team began exploring a cave at the bottom of a doline on a beautiful sunny day and successfully laid some line. The cave was only 12m deep, the visibility was decent and all this made for an easy and enjoyable dive. Overnight it began to rain and by the next day the water level rose by 10m. Christophe showed mind blowing images of the water level in the doline rising as the rain kept pouring. By the end of the week it was over 80m higher – which would have made that same cave dive, if done at that moment in time almost a 100m deep. The hydrology of the area is truly incredible and there is lots of potential for exploration in the area.
Christophe has also been very active, along with a team of other GUE divers, in Mexico. They've been busy not just exploring and laying literally kilometers of line in caves like the Ox Bel Ha cave system, but also mapping and trying to spread the conservation message. Mexico and the Quintana Roo area in particular, is developing at a rapid pace and the cave systems and the freshwater they hold are threatened ever day. The work of the Mexico Cave Exploration Project will hopefully make a difference and encourage more responsible development in the area.
John Garvin is a man of many talents, the least of which is being a kick ass diver and a leading instructor. He was a riveting speaker and the audience gasped in collective horror as he shared his first experience of cave diving. He survived a close call after he ventured into a cave without the proper training and equipment. Nonetheless, a few days later he realized he was hooked, he was awed by the beauty of the caves and delighted by the prospect of exploring passage never before seen by man. He got the proper training and soon founded the 'The Caicos Caves Project.' The team explored and mapped the underwater cave systems around the islands of the Turks and Caicos. Some of these caves were not easy to access and often proved difficult to dive, as the tides caused a powerful vortex effect that was dangerous as it sucked and spat the divers in and out of the cave. During the exploration they discovered not just caves but also important archaeological material. The team was involved in studies of hydrology and biology in the cave systems and spearheaded the protection of the holes.
John is also a screenwriter and wrote the script to the upcoming James Cameron 3D feature film 'Sanctum.' This is a cave diving movie and I'm happy to report, this time there are no monsters. The movie is based on real life events, something that happened to Andrew Wight, the producer of the movie when on an expedition to the Nullarbor (Australia). In 1988 a number of cave divers were stuck inside Pannikin Plain cave for two days, after the torrential rain of a freak storm (it dumped about a year's worth of rain in 20 minutes) caused the collapse of the cave entrance. The team was lucky to get out eventually and no one was hurt. The explorers in the movie aren't so lucky. They are trapped well and proper and the audience will be taken on quite an adventure, as they push beyond the limits of human endurance and attempt to exit the cave. We were lucky to get a sneak peak of the trailer for the movie and it was rather thrilling. I was possibly more excited then most to see the preview, as I was actually involved in the filming of the movie. This was my first glimpse of what it will look like on the big screen and suffice to say, it looks to be totally awesome and I cannot wait till February when it will finally come out.
Then there was Simon Mitchell, who is not just a brilliant technical diver but also an anaesthesiologist and diving physician. His wealth of knowledge is only outshone by his ability to portray all that he knows to the layman, in terms that we divers can all understand. He spoke about carbon dioxide, (CO2) and it's insidious nature that can incapacitate divers and easily lead to death underwater. Understanding the physiology of CO2 is absolutely crucial for all divers and especially rebreather divers. Simon discussed the development of CO2 analyzers and their use within rebreathers rigs, and left all of us with plenty of food for thought. Certainly a topic every diver should take a keen interest in understanding and knowing more about.
In the morning Ian Lewis held a fantastic workshop about cave geology, which tried to educate the old cave diver and force them to look at a cave in a whole new light. Understanding cave geology and the development of caves is very helpful when trying to find new cave. I came away with one idea firmly embedded in my head – there is more, much more cave to be found in the Mt Gambier region – and that is an incredibly exciting proposition. I can hardly wait to get back to Mt Gambier, this time with dive gear in tow.