| | | |
| --- | --- | --- |
| 60 Minutes Feature | | |
Thursday, 26 May 2011 14:23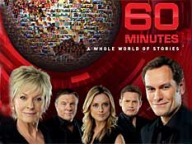 Mummu Media, the Milowka family and diving community from Australia have been lately involved in the production of the 60 Minutes segment for national television Nine Network Australia.
The program featuring the story of Agnes Milowka's life and the passion for underwater cave diving will air on by 60 Minutes Channel 9 on Sunday 29th of May 2011, at 7:30pm.
Channel 9 has generously donated $6,000 to the Agnes Milowka Memorial Environmental Science Award fund, including donated fees from participated in the project divers: Richard Harris, John Dalla-Zuanna, Liz Rogers and Andrew Wight. Thanks to all.

Click here to visit Nine Network 60 Minutes website.