| | |
| --- | --- |
| Australian Blue Holes Exploration | |
Written by Agnes Milowka
Wednesday, 25 August 2010 18:30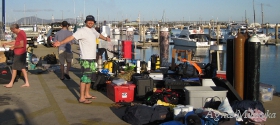 The Australian Blue Holes Exploration was a Sydney Project expedition spearheaded by Stuart McGregor. The idea was to conduct a search for Blue Holes out on the Great Barrier Reef, in the hope that  they might have cave passage at the bottom of them like the blue holes of the Bahamas. The project will last several years as there are many possible locations to check out and the Great Barrier Reef isn't exactly famed for being small.
Not much is known about the location of these places, there are no GPS coordinates available and instead there are many stories and sketchy descriptions from fisherman that proved to be the fantasy and wishful thinking. The classic fisherman's tale went something like 'you can't miss it and it's deep - real deep.' Luckily Stuart spent countless hours, over many months doing the research into the potential locations of holes within our target area - the Pompey hardline reef complex - a large series of reefs NE of Gladstone. No amount of research pre-trip however could predict the tides, currents, or depth of the sites so the team was prepared for just about anything.  

I don't know who said that reef diving was easy and QLD is home to flat waters, clear skies and lots of sunshine. The postcards you see from the reefs featuring flat, aqua blue water are clearly deceiving. We arrived on board the vessel MV Norval and were greeted by strong winds of up to 30 knots, swell and choppy seas. We had to cross 240km to reach the relative safety of Barrier Star and this turned out to be a 27 hour steam… let's just say that some of us fared better than others on the trip across.

We were rewarded with dives on the Barrier Star at the end of the long haul. While there was no cave passage at the bottom of it, the hole did drop off to 90m before hitting a sandy bottom and a slight overhang. The dive was a delight however, as much of the sheer walls of the hole were covered in all manner of whips and gorgonians and corals and gorgeous marine life abounded.  

The other site worthy of mentioning was Wonky Hole. It dropped down to 80m and was filled with lots of life, fish of all shapes and sizes and tree sized soft and hard corals. It was quite spectacular.

Generally speaking however, we spent the week steaming around from place to place checking out possible targets. Unfortunately, as often happens on exploration trips, we were out of luck in regards to finding any new cave. We did enjoy a number of pleasant warm water reef dives but this was not our objective. To keep up the morale most of us concentrated on the finer things in life like eating and drinking beer, while others added pretending to fish to the mixture. We did get fed particularly well on the trip - thanks to the skipper Scott and deckie Morgan.

It was a very pleasant, fun and relaxing trip with little cave found but a lot of pretty, colorful reef enjoyed by all. The team consisted of Stuart McGregor, Dave Apperley, Samir Alhafith, Frits Bruseker, Tim Cashman, Craig Challen, Andrew Del Riccio, Kevin Okaby and they were fabulous company throughout.
Let's hope the Sydney Project has better luck this year as they target another section of the reef. A cave dive would be a nice addition to the spectacular reef diving on the GBR.