| | |
| --- | --- |
| Cocklebiddy Cave Expedition | |
Written by Agnes Milowka
Tuesday, 24 August 2010 18:30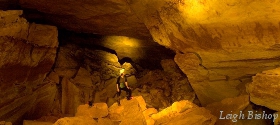 Diving out in the Nullarbor Plain is what Australian cave diving is all about. To get to the dive site you literally head out into the desert and it is thousands of kilometers to the closest city. The trip becomes an expedition based purely on the remoteness of the site. There are no dive shops, in fact, there is not much of anything out there except for strong winds, red dust and piercing sunshine.
Hence generators, compressors, spare parts, food, water and beer… everything has to come with you. If you happen to forget an o-ring, well, you're rather out of luck. A host of local characters add flavor to the trip; from lizards and dingoes, to snakes and spiders and off course, the much loved flies.
The key feature of any trip out to Cocklebiddy is the hard work associated with actually getting in the water. There is a lot of physical labor involved as each piece of equipment has to be ferried down to the water's edge and that is no mean feat as the rock pile leading down to the Lake is a several hundred meter scramble. If you are not fit before you get there, well, you certainly will be by the time you finish the trip. But it is all worth it, as Cocklebiddy is an incredible cave… big, white and beautiful… and the size of it is just phenomenal. It clocks in as Australia's longest cave at 6.5km of linear distance, but it is size of the actual passage one swims through that is breathtaking.

The cave boasts three sumps, which means negotiating two rock piles along the way in order to keep diving and reach the end. The rock piles require clambering over boulders and rocks and dragging all the gear, including scooters, across to the other side. The first rock pile is about a 100m long, so it is a big of a clamber up and over. The next chamber is the infamous Toad Hall. It is 300m across and is more than just a scramble I can assure you. Here you negotiate huge boulder piles and steep slopes and really have to give it your all. The chamber is hot and humid and has slightly high CO2 levels, just to make things more interesting.

Toad Hall is home to a slate where cave diving visitors have signed their name since its discovery in 1982. To date there are only about 50 names on the slate, so this place is definitely not a thoroughfare. When we arrived only one woman had ever dived to Toad Hall - Tania Yarra. So Sandy Varin and I were the first chicks to dive in sump three.
I loved sump three, it was much smaller and scraggly looking and was probably my favorite sump. After making 5 trips across Toad Hall in order to carry all my dive gear across, submerging into the cool water was most welcome. I headed towards the end of the line Craig Challen laid in 2008 but unfortunately had to turn on gas before the very end. As it turned out I was a mere 20m off the very end of the cave and thus managed to set a record for the longest cave dive in Australia for a female. Still, as far as I'm concerned you're either the first or you're one of many. Craig beat me to it so there's not much to write home about. Nonetheless, it was a wickedly cool dive and I enjoyed myself immensely.

The boys (Rick Stanton, Craig Challen, Harry Harris) tried to extend the cave a little bit further, but Cockle was having none of that and bits of their equipment were also less then cooperative. It seems unfair to blame the equipment for being less then obliging, given the difficult conditions, brackish water and general rough treatment. It can be frustrating however and I must have uttered a few choice words after becoming a victim to a scooter failure which saw me swim 2.5km back out of Toad Hall - fun times. Just as well I was coming off a trip to FL where it wasn't unusual for me to swim 3km on a dive just for kicks.

The whole trip was a great experience. There was a host of cool and classic folks (Craig Challen, Richard Harris, Ken Smith, Geoff Paynter, Leigh Bishop, John Dalla-Zuanna, Rick Stanton, Doug Friday, Mark Brown, Mick Green, David and Sandy Varin and Jamie Brisbin) and it was an absolute treat to be a part of the expedition. Can't wait to head back - gotta recovery the silly light I lost in sump three!
To read a more detailed account of the expedition check out Leigh Bishops story Beyond Toad Hall published in DIVER magazine.