| | |
| --- | --- |
| | January 04, 2013 |
| Rick Stanton awarded MBE | |
---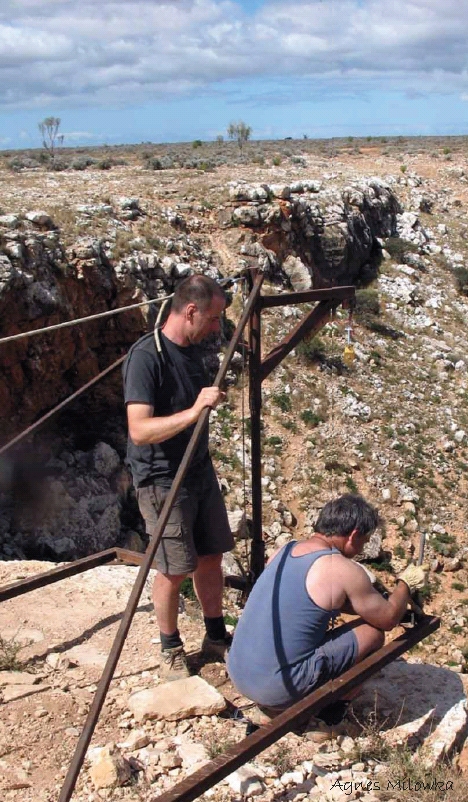 World renowned cave explorer Rick Stanton has been made a Member of the Order of the British Empire (MBE) in the Queen's New Years' honours list. Congratulations!

Agnes and Rick participated in the Australian-British collaborative project to reach the limits of the spectacular Cocklebiddy cave system in Australia.

He honored her later with words: "Agnes was well known and respected throughout the global diving community. She was not only great to be around on the surface, she was a very happy, enthusiastic, bubbly person. She was also up and coming in the Cave Diving World and we all thought she'd be one of the future bright stars". [Cave Explorer Rick Stanton, X-Ray International Dive Magazine].

Photo by Agnes Milowka, Cocklebiddy Cave, Rick Stanton and Mark 'Wiz' Brown setting up the a frame in order to lower gear down to the entrance of Cocklebiddy cave. Full Story: Beyond Toad Hall
| | |
| --- | --- |
| | December 26, 2012 |
| Agnes Milowka on Wikipedia | |
---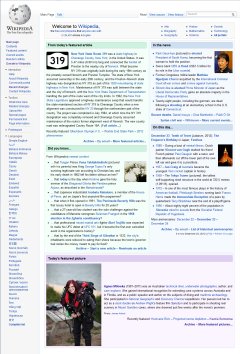 Agnes Milowka featured on Wikipedia's main page (23-12-2012):


Agnes Milowka (1981–2011) was an Australian technical diver, underwater photographer, author, and cave explorer. She gained international recognition for extending cave systems across Australia and in Florida, and as a public speaker and author on the subjects of diving and maritime archaeology. She participated in National Geographic and Discovery Channel expeditions. Her passion led her to act as a stunt double on Andrew Wight's feature film Sanctum and to participate in shooting real scenery in Mount Gambier caves, where she drowned a few weeks after the movie's premiere.



Wikipedia Archive: Main Page History.







| | |
| --- | --- |
| | July 30, 2012 |
| Ag's Blue Arrow in Dreamtime Tunnel | |
---
Unnamed Cave is the most recent major discovery in Australian cave diving. Out on the Roe Plains in the West Australian desert, the massive tunnels discovered so far are still going kilometres from the entrance, with teams going out over the coming months to continue exploration. The cave was first dived last October on a trip led by Paul Hosie of CEGWA. Discovered half way through the expedition, the group spent the last few days chucking in as much line as possible before they had to return to civilisation. One of those divers was Brian Kakuk of Bahamas Underground, who worked with Agnes during the National Geographic shoot in the Bahamas in 2010 /.../

Source: Liz Rogers Photography 2012-07-23

Team of international divers continue the Unnamed Caves exploration, lately they placed Ag's blue arrow markers on the line laid by Brian Kakuk (pictured below):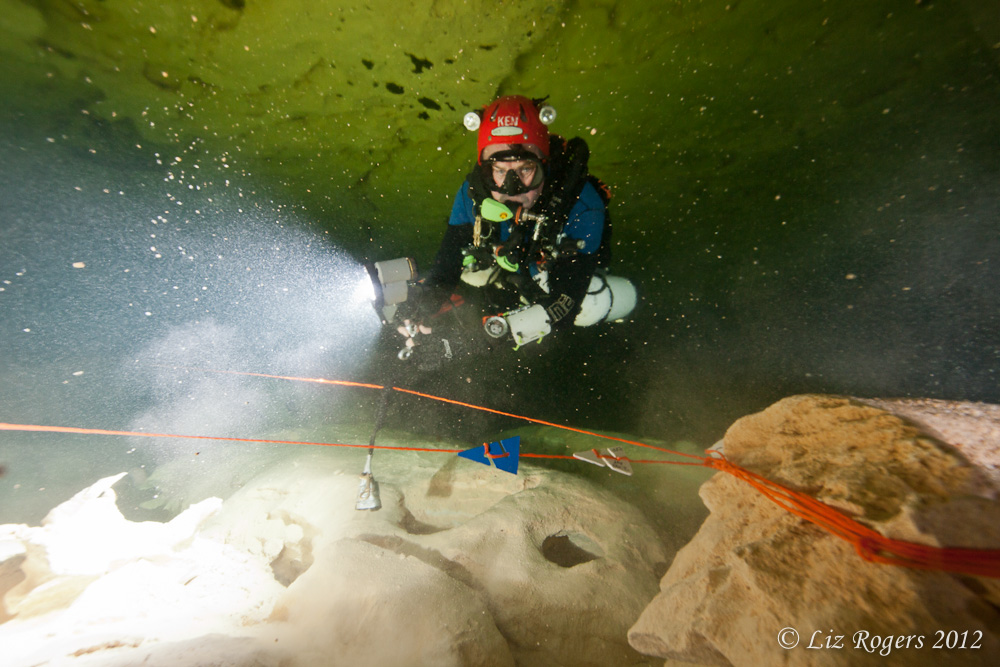 | | |
| --- | --- |
| | July 30, 2012 |
| Best Pictures of May 2012 by National Geographic | |
---
Following the guideline her life depends on, a diver threads the needle through a stalagmite forest in Dan's Cave on Abaco Island. A single, misplaced fin kick can shatter mineral formations tens of thousands of years old. /.../

Source: National Geographic May 2012

Close-up with Agnes Milowka from the original photograph: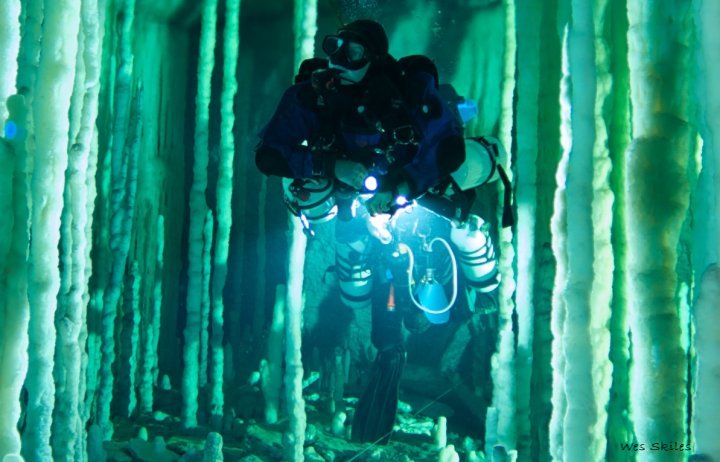 | | |
| --- | --- |
| | February 06, 2012 |
| Tribute to film producer Andrew Wight | |
---
Andrew Wight (1960 – 2012) was an Australian underwater explorer and film producer. Sanctum 3D blockbuster was made by his company Great Wight Productions and involved work and input of many of his diving friends, sharing similar experiences from the underwater adventures. He produced and participated in over 40 documentaries and films like Nullarbor Dreaming, Ghosts of the Abyss, Bismarck or Aliens of the Deep. He was awarded for his cinematographic and TV work many times, and received the honors from Australian Geographic Society. Together with the famous film maker Mike deGruy, they have been touched by well known to them sanctum...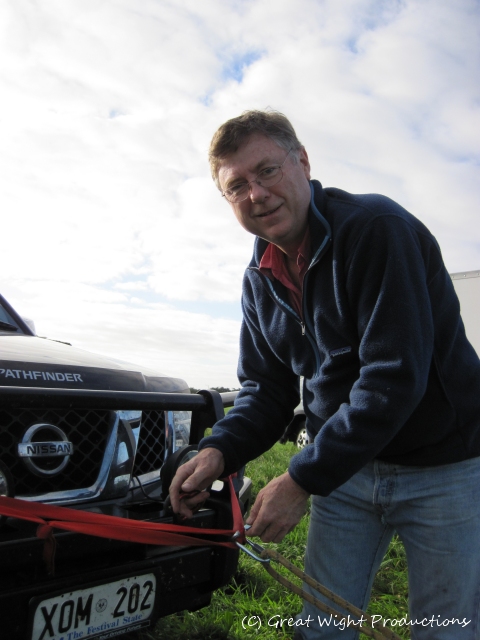 Andrew was a great advocate of Agnes' life and spoke fondly about her passion for exploration. She knew both of them. Lately Andrew wrote about Agnes in these words, quote:


"I was formerly a Cave Diving Association of Australia examiner and have been cave diving for over 30 years. I dived with Agnes in caves around Mt Gambier, South Australia, and I was struck by the great enthusiasm with which she approached life in general, and diving in particular. She had a truly adventurous spirit and made great contributions to the recognition of women cave divers in Australia and around the world. She was a true explorer.
In 2010 Agnes was employed on the set of my feature film, Sanctum, as cave dive instructor to actors and also as a dive double for the two female lead roles. Agnes was a highly qualified cave diver who brought a wealth of experience to all on the film. Her communication and training skills meant that the actors were able to comfortably act as cave divers within a relatively short time, and her attention to detail created a safe working environment and a high degree of fidelity in the actors' performances.
The untimely death of Agnes earlier this year has been a great loss to the world of cave diving and to the spirit of adventure.
Recognising Agnes would be a poignant reminder that true discovery and exploration is not without risk, but the few women who do excel in the world of exploration should be recognised and admired." [Andrew Wight]
Thank You, Rest in Peace
Photo: Andrew Wight on the shooting for Sanctum at Mt.Gambier 2010.
Great Wight Productions - official website
Mike deGruy - official website
Director James Cameron has paid tribute to two filmmakers /.../
Remembering Mike deGruy and Andrew Wight by National Geographic
"How the cave diving community is feeling..." - Bernadette Young interviews Andrew Wight on ABC Radio March 1, 2011, Brisbane, Australia.

<< Start < Prev 1

2

3 Next > End >>


Page 2 of 3